Since I can remember F1 has been part of my life. From a young age I was in front of the TV watching the likes of the late great Ayrton Senna do battle with Alain Prost, until that tragic day… I watched as Schumacher won nearly all of his championships. What I am trying to say is that I have lived and breathed Formula 1 since I can remember. Once i was old enough to manage the keys, it was just logical that my mother would put me behind F1 1992 on PC. I consider myself to be quite knowledgeable when it comes to Formula 1. Whether it be tactics, track knowledge, team history and general terms used in F1. So when Apex Interactive sent me the new F1 2018 by Codemasters I felt like I was the right man for the job…
First things' first, I have probably not touched a F1 game since I was a kid and I can't explain why. This means I have zero reference regarding how F1 2018 compares to its predecessors. When I fired up F1 2018 I was simply blown away! First order of the day, naturally, is to jump into the career. You have the option to create your avatar and mildly customize him as well as pick a helmet design and manipulate the colors to suite your style. Next up is choosing the team you want to join. I would have liked to see the game start you off in a lower team and make your way up the ranks, but F1 2018 allows you to pick whoever you please, I went for the realistic approach and joined Sauber.
I considered myself a bit of a racing-sim-amateur so I went for assists, after one lap I decided to push the difficulty level up by at least 2 levels. Removing the assists and ABS. Suddenly the game came to life! Not only do you have to be so connected and in tune with your race car, you actually need to use your free practice sessions to get to know braking zones, corners and your car in general. A nifty feature that serves more than one purpose, is the training programs that are allocated to you during practice sessions. These range from learning the track. Fuel management, Tyre management and qualifying laps. These challenges reward you with some knowledge of how to go about your upcoming race as well as research points which you car pour into the development of your car.
And so my F1 journey begins. After a brief introduction of the magnitude of screens and settings and adjustments that you have at your disposal I decided to jump straight into the action and headed off to Melbourne Australia. I was met with a barrage of settings and things that I could adjust which, if I had no F1 knowledge would have blown me away. Luckily I could grasp all the technical jargon from listening to many years of Murray Walker and made a few adjustments and set off on my first out lap…
With the introduction of the new halo safety system the cockpit view is somewhat difficult to get used to. You now have a large pillar in the middle of you field of view which complicates things… But seeing as this is a sim-racer i chose to stick with it and i quickly got used to it. The attention to detail on the steering wheel is simply astounding. Not only can you see all your car info from tire temperatures to engine management settings your driver will throw his hands in the air if a fellow driver cuts you off at at turn. All very nice touches which improves the realism.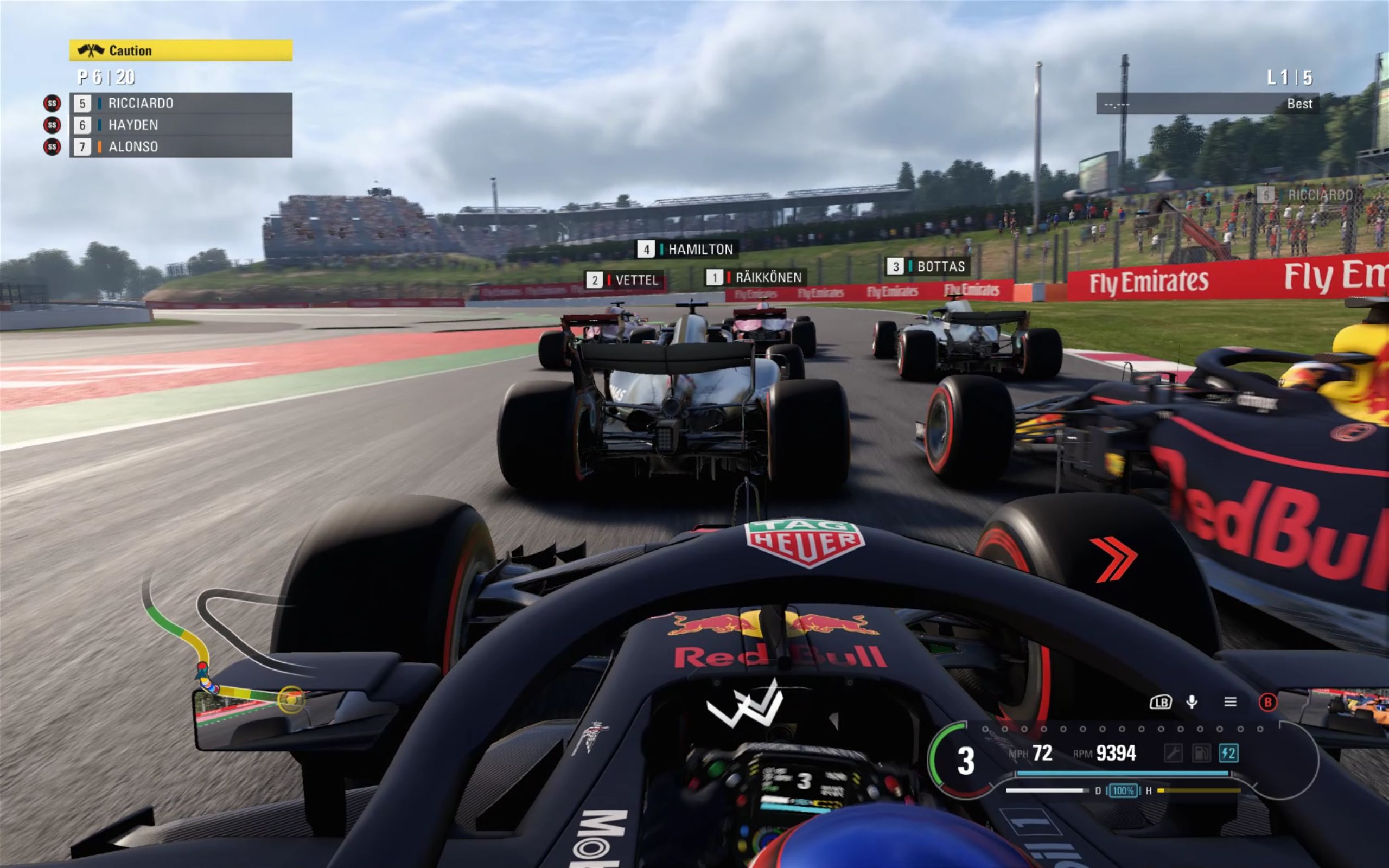 Graphically everything looks really nice and even though you race along the tracks focusing on the road, not really the surroundings, it really has got a nice feel to the environment around the track. I had hardly gone around the track twice when my engineer told me rain is approaching soon and that is when this game stepped up even more. Suddenly race tactics changed. Drivers were diving into the pits, others staying out to try and take advantage and risk of not going over to wet tires just yet. I was panicking due to the struggle with grip I was having. I cautiously made my way into the pits and got my wet tires. After losing a few spots I had to fight my way back up the leader board. I eventually ended the race in 6th position.
After a few rather average looking scenes of teams celebrating etc I was taken to a debrief where you get shown how your view and rep from other teams change depending on your performance. But what I really found post race was how intense of a racing sim this game is when you turn up the difficulty level. Not only was my fore arms sore from gripping my controller so tensely but I was physically tired. That is part of the beauty of this game. Not only is it just a F1 racing game. It forces you to know your own driving ability as well as understand the sport of F1 and how the cogs of the team work together to produce a great race weekend and how suddenly things can change due to rain. The game seamlessly throws the rain into the mix and everything changes faultlessly. Tyre degradation, team tactics etc are amazing! Not only is it the type of game that focuses on all aspects of the F1 brand like contracts and team development that caters for the more die-hard fans of F1 but it can be played by casuals racers as well.
In between race weekends there are also classic events and short track events to change from the intense racing of F1. You can jump into race cars of yester year and take them around shortened sections of well known tracks like Suzuka. This brings a welcome change of pace and its a nice touch.
Overall I think anyone who is even remotely a F1 fan should get this game. Whether you are a casual- or sim-racer. F1 2018 has enough to keep everyone coming back for more and the multiplayer is sure to attract many more people. Codemasters has taken their F1 game and turned it into a franchise to compete on the level of FIFA, Madden, NBA and all the EA sports titles. If you are any sort of F1 fan and want to play F1 when you are not watching it, this is the game you NEED!
a very special thanks to Apex Interactive for supplying me with this review copy