Turtle Beach XO Seven Pro
Headsets now-a-days have become so varied in price, looks and functionality that it is extremely difficult to look at only one.  The headsets of today range from dirt cheap to take-a-loan expensive.  With a wide variety of brands out there it is tough to make a educated decision.  I myself am a Astro man but after testing this Turtle Beach I was pleasantly surprised.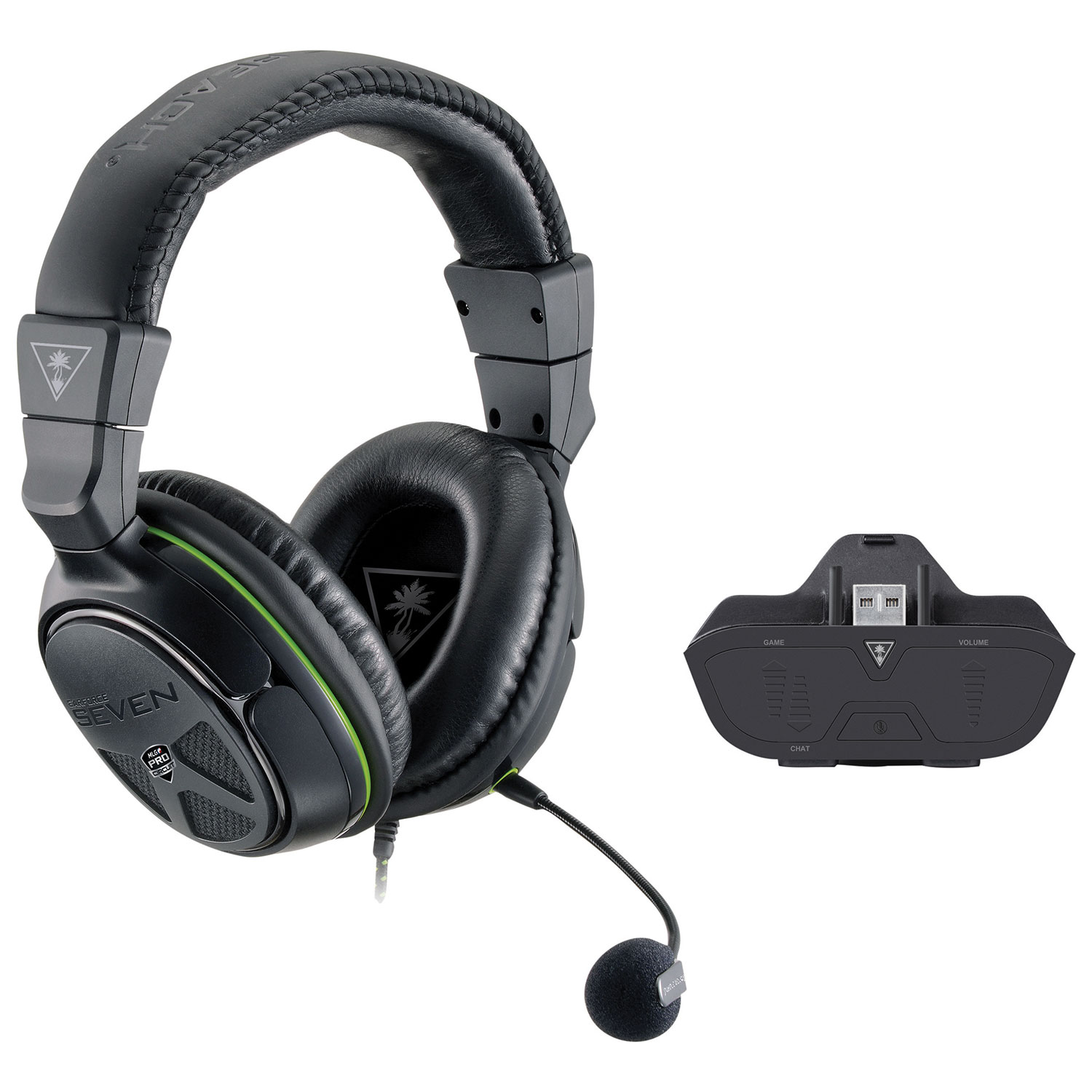 Unboxing
The magic starts right from the word go.  Apart from the expected headset you get Turtle Beach's own version of the Microsoft chat adapter as well as two break away cables.  One for the Xbox and the other for other devices with a in-line mic.  A microphone boom and a micro USB cable is also included.
From the very first glance it is difficult to deny the shear beauty that is the XO Seven Pro.  Sturdy yet lightweight and from the moment of slipping them on you realize they are built for comfort!  50mm earcups with memory foam cushions makes it feel like you have your favorite pillow strapped to your head while also providing superb noise cancellation.  Whether you are using this headset for work, music or gaming it blocks out the outside world while allowing you to immerse yourself completely.  For those of you with the bigger heads the headband is also cushioned and adjustable.
Setup
Setup could not be easier!  Simply plug the adapter into your controller, plug the headset into the adapter and you are good to go!  The microphone boom is removable if you feel the need to get away from your pesky online friends that keep nagging you to play that one title that you so utterly despise!  The minimalist approach when it comes to cables and no batteries to be charged makes this a very nice no-fuss headset.
Sound

I know that we all skim through headset reviews to this exact point.  Not many people really care alot about what their headset looks like, if its comfortable, yes that is important but what really matters is whether it sounds good!
The XO Seven Pro sounds…  GOOD!  Due to obvious limitations brought by the adapter sound is only rendered in stereo but this is nothing to be sad about.  This headset makes even stereo sound really really good!  What I personally use to differentiate a good headset from a poor one is the subtle sounds that are generally not even heard.  Take for instance a game like the Witcher 3, have you ever taken a moment and just stopped and closed your eyes and listened.  Really listened to the living environment around you. From the wind changing directions to the rustle of the leaves to your trusty steeds' hooves scraping the beaten pathway…  The XO Seven Pro allows you to indulge in every single one of those delights.
What makes this headset extra special is on the adapter you have a little wonder-button called "superhuman hearing".  At a push of a button your headset goes from great to AMAZING!  With a press of a button you suddenly experience a sense of awareness that I cannot put into words!  Sounds develop more depth, bullets sound more piercing as they fly by you.  Explosions rumble into your bones!  You basically have Cinema-style sound right on your ears!
Functionality
Like the normal chat adapter, the Turtle Beach one comes with the ability to adjust the mix between chat and game volumes.   What the Turtle Beach offers above the standard is the ability to pick between microphone presets.  Add either bass, treble or just let the normal levels pass through.  Thanks to mic-monitoring you can adjust how much background noise get sent to your party members allowing you to avoid feedback from your tv or just ambient noises.
Another added benefit to the XO Seven Pro's is the fact that they look great, meaning you can wear them out and about if you want to listen to some music while walking the dog.  The in-line mic works great for talking phone calls.  You can also personalize your headsets by exchanging the faceplates on the back of the earcups to give them that personalized feel.
If you are in the market for a decent headset or you are tired of your entry-level gaming headset then this is definitely looking at the right headset!  You will never go wrong with purchasing a Turtle Beach headset and like many others have before, once you purchase a Turtle Beach you will never want anything else!