As the title suggests, this is a first look at a UFC title, so be aware I have zero reference points…  Gloves on, mouthpiece in!  Time to step into the octagon.
EARLY IMPRESSIONS
I have never touched a UFC title before, well maybe a demo… I think. So for me this is completely out of my comfort zone in terms of gaming.  New territory I have only seen in videos.
So my impression of UFC 3 was, at most, daunting because I had no idea what I'm getting myself into. So I took a deep breath and Pressed Start.
So I jumped in and went straight for the Create-A-Fighter mode, I was greeted with a fair amount of options to play with.  I am happy that there is variety in the mode to create all manner of fighters.
After creating the perfect representation of myself, a chiseled behemoth of a fighter, with dashing good looks ( I have to recreate myself you know 😉 )   I proceeded to a few practice fights. I quickly realized that the beat' – em – up style is vastly different from those of Tekken and Dead or Alive. So I had to adapt or this wasn't going to go south, rather quickly!
I took my newly created fighter into Career mode, and adapted style of playing a beat'em game, to the Octagon to see how it goes.  It didn't.  I lost by way of submission.
My early impression thus far is good.  I got my butt kicked in the first fight, but instead of making me want to quit, it made me want to learn from this and adapt even more, which I did and won by knock-out.  It felt great landing that knock-out punch, so much that I wanted it more. So my journey as UFC fighter began.
GAMEPLAY
The game has an extremely solid feel to it. This is further enhanced by the incredible graphical detail of each fighter.
The movement is different from what I am use to in games like Tekken.  I want to say a delay but the word delay must be taken with a pinch of salt.  This style makes me plan my offence and defense very carefully.  With this slight "delay" comes a sense of strategy, aimless button mashing will get you knocked down and out before you hit your second sequence of buttons.  Strategy is key.  Well timed and thought out attacks are devastatingly effective compared to button mashing a front hand jab hoping to drop your opponent eventually.
The character model movement is spot on.  How they react to getting punched and kicked gives you the visual feedback that you actually doing damage.
UFC 3 matches are not to be considered a sprint race, quite the opposite they are marathons.  If you go all out throwing punches and kicks like you playing an arcade brawler, you will lose, badly.  You have to manage your stamina and decide when the right time to attack is.  Landing a blow against an opponent that is blocking compared to missing entirely, I would rather take on a block.
The grappling side of things is a monster in its own right, this is truly a art form that when mastered can be magnificent but as a beginner it can be tough to get to grips with.   The ground game can be handled easy, but when it comes to a submission move, it is difficult for a new comer as the feedback on that is rather minimal. It is easy to lose at submissions when you are new to UFC, but as they say, practice makes perfect.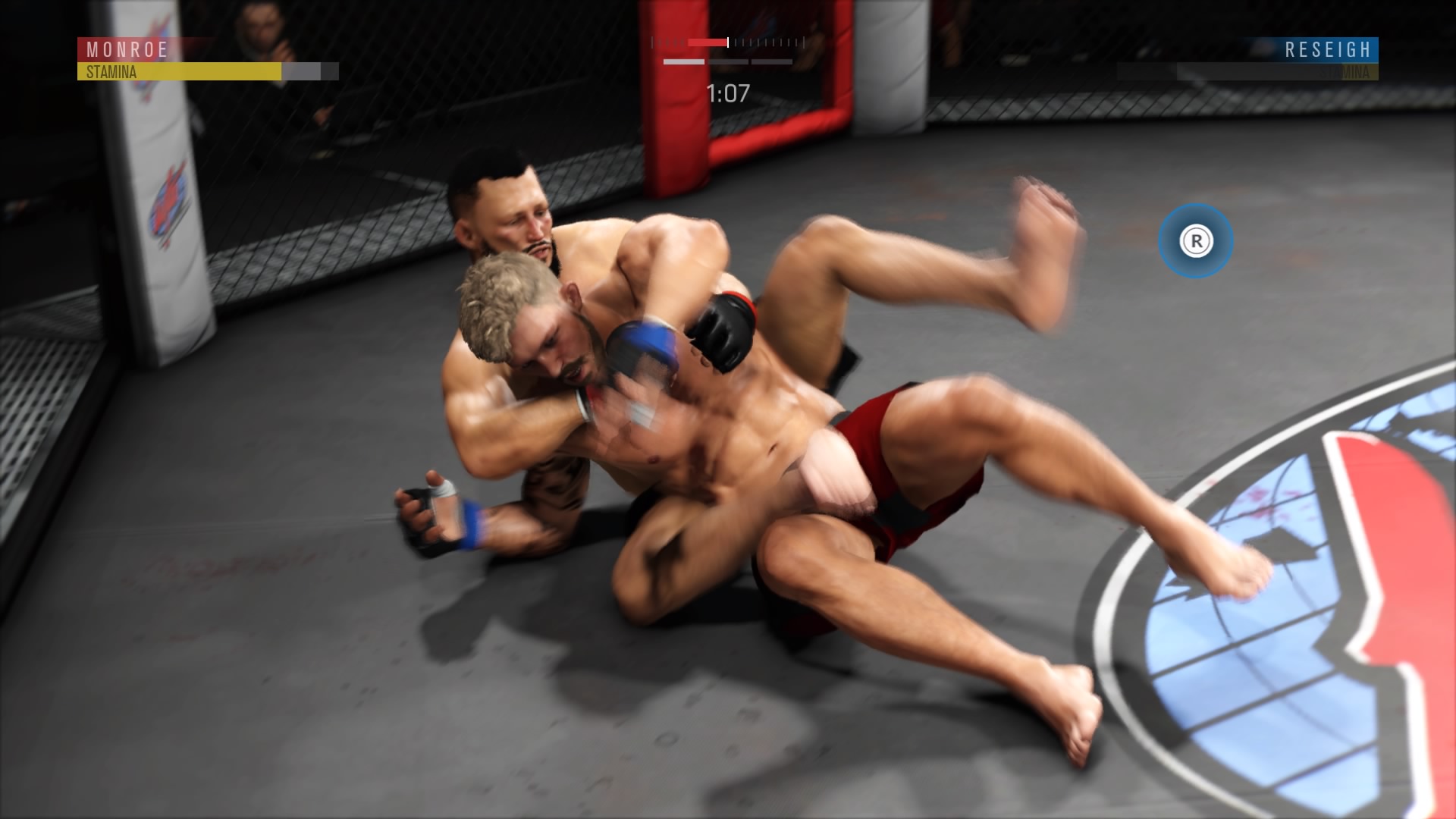 Damage is also indicated accurately like a real UFC fight.  Faces swell up and blood get spilled, and when landing a heavy damage dealing blow,  the screen tilts and wobbles as your opponent stumbles, all while the crowd goes wild.  It may sound like you are winning, but the fight can drastically turn with just one well-placed kick to the face. So it is always best to keep your guard up.
GRAPHICS
As far as the graphics go, it looks really great. You would easily mistake the game for a live UFC match on the TV if you gave it a quick glance.
The character models are super accurate and when landing those punches to your opponents face, you can see the blood, sweat and fortunately no snot, flying off your opponents face.  Keep in mind also, it counts for your fighter too, but it still looks great none the less.
I will be honest about a few things. Some of the character models look weird, almost like cartoonish, but this does not mean they don't pack the punch they are famous for.
In game there are some graphical oddities like certain head movements when punched or kicked, arm movements and even fighters walking into the ring barrier like it's an invisible wall, but these are not game breaking or even enough to take you out of the moment.
All in all, the game looks great from start to finish and custom characters fits in like they were meant to be there.
REPLAYABILITY
UFC 3 has all the bells and whistles like any other beat'em up title. Fight Modes, Career Mode, Practice Mode and Online Fights.
Fight Mode is your straight up jump into a fight and enjoy with no loss or gain, just plain old fun.  It is also the best place to get a feel for the game in a real fight.  You can get the same in Practice Mode but in my opinion it's only good for practicing to land punches and kicks. It also makes you a tad lazy in managing your stamina.
Career Mode is where the game really shines.  You can either choose any of the existing fighters in the roster, or create your own, and yes there is even a feature to upload your own face to your fighter.  After you tinkered with your fighter's appearance and style, you start your career with a starter fight to lead you into what the UFC is about.
In career mode your stats do not simply build until you are a unstoppable force with a iron chin.  You have to train to keep your health and stats up for each upcoming fight to ensure you have the best chance of winning.  You are assigned points you can spend on various activities during your training.  From gym sessions to self-promoting to create hype.  This does give you the sense of being more involved with your fighter's progress, making each victory well earned.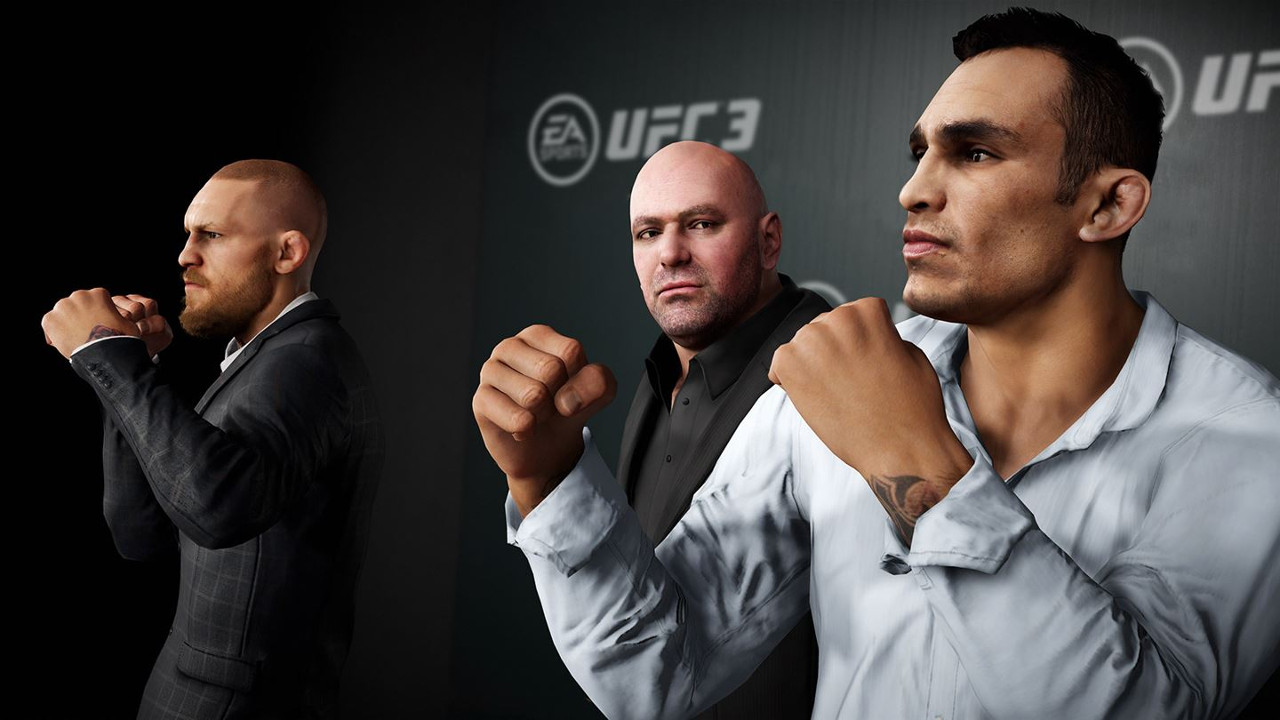 I decided to go onto the online octagon and see how I would stack up. I obviously expected to get my butt handed to me on a silver platter.
I didn't do too badly actually, I still lost, but It was exciting and fun.  I still have a long way to go if I want to be an online champion at UFC 3, but until that day, I will have to train hard.
UFC 3 also boast and Ultimate Team mode, which does have a fair share of loot boxes but this is only within the Ultimate Team mode. You can also acquire other items via the store that you buy with in game currency. Items switch up after a time limit so it's never the same.
From all that is on offer, UFC 3 is a rather beefy package to sink your teeth into.
FINAL VERDICT
UFC 3 was nowhere near on my radar of games I would try, but I'm sure glad I did. It's a proper brawler that I can see being used as a way to settle arguments.
It isn't everyone's type of fighter, but I would recommend it if you are a gamer that enjoys these type of games with friends.
I will be spending more time with UFC 3 because my victories feel earned. I genuinely get stoked when I get a knockout on my opponents.
Just like the real UFC, I stepped out of comfort zone and gave this game a try only to discover I loved it.
Special thanks to Prima Interactive for sending me this review copy.
Written by: Ghost86
Edited by; BigJapester11