Razers in the past, could be recognized by their outrageous colours and over the top designs, as well as a strange liking in calling their controllers after some sort of cat…  Previously the Wildcat was a over the top wired controller trying to compete with the luxurious Microsoft Elite controller.  With its large green grips and enormous Razer logos plastered all over, it was never going to win any styling prizes.  But that wasn't what Razer was going for, they wanted to be the ultimate in premium gamepads, but alas they failed in that to.
So Razer went back to the drawing board, dropped the cat name, replaced it with a catchy stronger title, toned down the styling and what they created was sheer brilliance!
The Razer Wolverine Ultimate is a modular, remappable monster that can easily be called the best Premium wired controller for the Xbox out there!
Lets Jump in…  Pun intended 😉
What's in the Box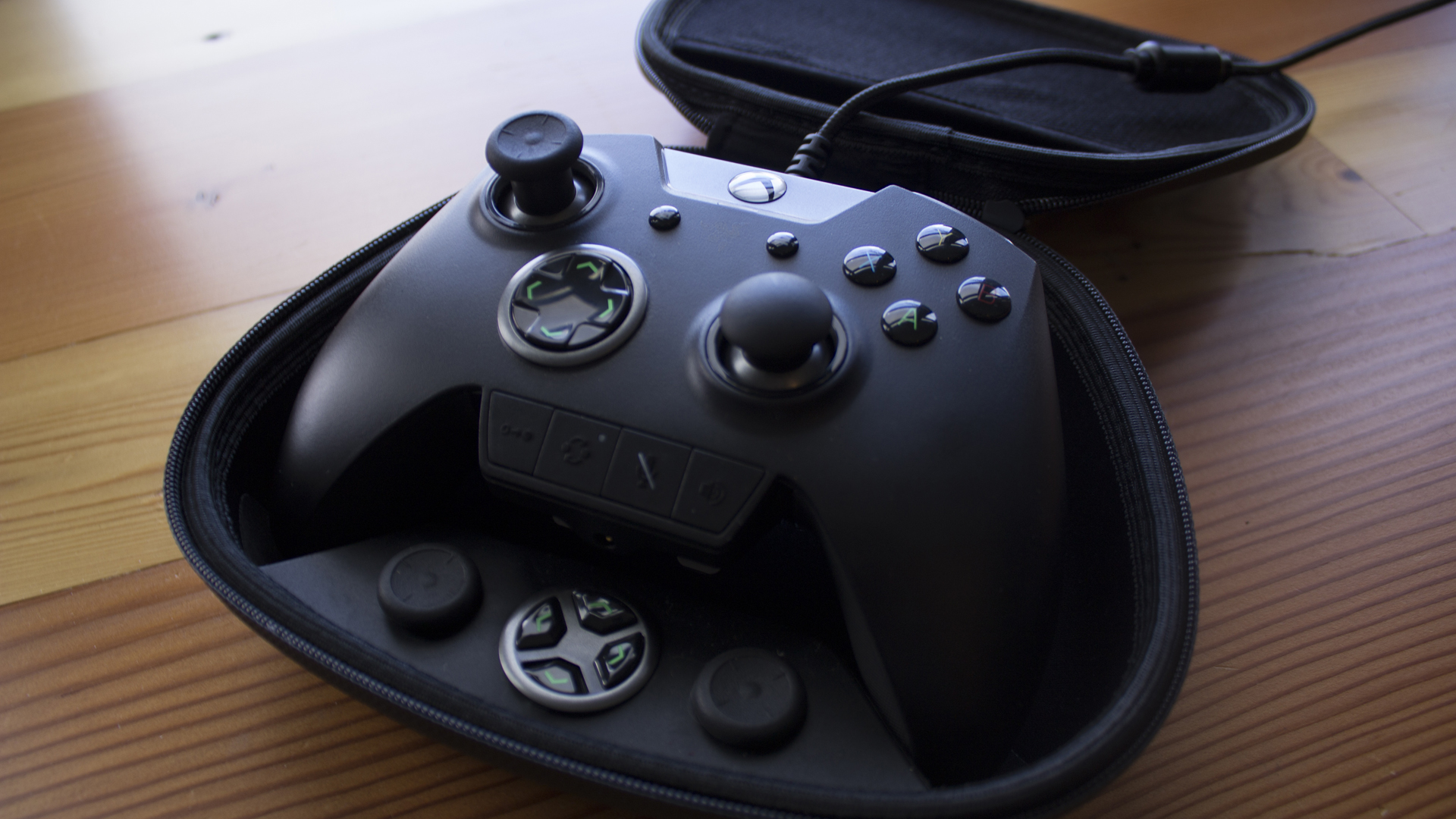 Upon opening the Wolverine I was met with a beautifully packaged unit, that sits snugly in its protective carry case.  This carry case feels like quality and even though it might copy the elite carry case it serves a purpose, it protects your investment.  Inside the carry case there is an additional D-pad, as well as a domed analog stick, as well as a longer stick. The usual manuals and warranty paperwork is in the box as well along with the USB to micro USB cable which is a good 4m long.  It is good to note that the micro USB end of the cable is moulded to fit into the controller so do not lose this cable as your other micro USB cables will not fit!
Design and Feel
Upon picking up the Wolverine the price tag made sense.  It is really really well built, Razer has toned down by adding the chroma strip to border the Xbox button, (which can be turn off via the Razer Synapse app).  The rubbery palm grips help keep the controller from moving around too much in your hands during play.
But what makes this controller different from your standard controller is the customization ability so lets start with the interchangeable parts.  The analog sticks as mentioned above, simply just pull off when you want to change them, they are held on with magnets, which are great for quick and easy changing, I found myself swapping short and long analog sticks between rounds of Siege which was great.
The short press mechanical AXBY buttons are weird to get used to at first as the travel on them is so minimal causing me to press them too early at first.  This is where my eyes started to open as to why Elite and Premium controllers DO make a difference or give you the competitive edge!
Yet another amazing feature that Razer has incorporated is the ability to set your travel distance on your paddles.  When playing racing games your paddles can be operated as usual giving to good throttle and brake feathering abilities.  When jumping into Call of Duty or Siege where you need that scope and fire buttons to react lightning quick, simply flick two little sliders over and you have quick press triggers!  No more getting shot before being able to fire the shot!  Again, the Wolverine is justifying its price tag.
Now we get to the extra buttons the standard controllers don't have.  Usually on the other premium controllers you only have 4 remappable buttons, all found underneath the controller for your unassuming digits to use in case of emergencies.  Razer goes one better and provides you with 6 buttons, four at the bottom and 2 on the shoulder!  Straight out the box Razer has set up the two longest back paddles to be a kind of toggle for sensitivity, hold in the left paddle and your sensitivity will drop right down low for when you need to be more precise with shot placing etc.  Pull  the right paddle and the opposite will happen, sensitivity will go right up giving you the ability to quickly spin around and catch that enemy sneaking up behind you.
Now I can hear all of you saying "but I don't need all these buttons" and I felt the same way, until I started using them in-game. Whilst playing COD WW2 multiplayer I specifically realised the use of these buttons. The problem with any fast paced game is that you need to take your right thumb off the analog stick if you need to use any of the buttons and that is when you get caught, having the mappable buttons I could easily reload and swop between my weapons all the while keeping my sights ready for an enemy wanting to capitalize on a unsuspecting player! Another point to the Wolverine.
Extras and Features
I am a sucker for customization!  I will sit for hours customizing my face in Fallout without ever starting the game, so when I discovered the Razer Synapse app on the Xbox Store I was instantly in love!  Using the app you can change all your programmable buttons as well as set different profiles for them.  Yes, if you are playing one game and need a certain button to be at your fingertip, you can program it to be there, but you also play a different title where you need a different button to be in that same position?  Don't fear, Razer gives you the ability to flick between profiles with a simple button on the chat adapter that is built into the controller. Press the button watch the light change colour and you are ready for your alternative button layout.
the Chroma feature, which is unique to Razer, is the light bar situated at the top of the controller.  With the Synapse app you can control this light strip to flash, pulse, respond to vibration , move in waves or just cycle all 16.8 million colours that it can produce.  Or, if you don't want to be distracted by the rainbows of colours parading around your controller, you can simply switch them off.
Final Verdict 
The Razer Wolverine is an extremely capable controller, in my review time I could literally see the improvement of my game just by using the controller.  It is something to get used to at first as the buttons feel different and respond differently to the standard controller.  The build is good and the features are easy to use and are very effective at what they are intending to do.  There are however a few minor points that I have to point out.
The fact that it is wired only and the cable being 4m long can cause problems for users that sit further away from their consoles, but the wired part has a flip side to it.  The reason for the wired connection is to eliminate delay that you can get from using the wireless controllers.  For pro or serious gamers, those few milli-seconds can be the difference between winning and losing, but for a more casual gamer, and with our lack of local servers, adding a few milli-seconds on to your response time isn't going to make that much of a difference.
Due to the lack of wireless which in turn means no batteries, the Wolverine is slightly on the light side to my liking.  I would prefer a little bit of extra weight to it but that can be achieved by adding control grips or something of the sorts.
The chat adapter with all of its buttons is great but creates problems for gamers that use headsets with chat-pads attached…  Also when I was using the adapter on the controller I couldn't change my party and in-game audio mixer settings, after a couple of attempts I gave up and decided to use my Astro A40 through its own amp.
Overall looking past the minor flaws that I mentioned above, I would get this controller in a heartbeat!  Razer has found the sweet spot in the Premium controller market and they can honestly give the Elite a run for its money!
As always thanks to Apex Interactive for allowing me to test this magnificent piece of hardware!