Much can be said about Star Wars Battlefront 2. Good, bad and some neutral. So let's start with the good.
CAMPAIGN
Star Wars Battlefront 2 starts off right before the destruction of the Death Star and then continues on from there. You are put in control of a few characters throughout the story, but the main focus is on Iden Versio, an Imperial Special Forces Trooper of Inferno Squad.
Playing through the somewhat short single player campaign, it is evident that not enough was fleshed out with the characters, if you are a new comer to the Star Wars universe. However, it is still an enjoyable piece of the game. Let us be realistic here, Battlefront was never known for its single player, so actually having one this time around is fun and great to look at.
With 13 chapters, it mixes up the gameplay on foot and in vehicles. Both plays, and feels great. Whether you are in First Person or, Third Person view, you will be pulling off headshots and Starfighter kills with ease. But don't let the game's first outing with a story side make you believe it's a cake walk, even on normal difficulty the A.I. can take you out if you are not careful.
The selection of weapons on offer is not huge but very distinct and can be changed up via loadout boxes throughout the mission. They sound like they were pulled straight from the movies and packs the same punch. Blasters obviously don't run on ammo, but with an Active Reloading style mechanic in place, all weapons either have the quick reload or the damage boost. It is not a unique system but it works really well.
Vehicles segments also has the choice between First and Third person viewpoints. I myself prefer the Third Person perspective. I didn't lose my accuracy and I was far more aware of where the craft was in the environment, but mainly because I like the look of vehicles.
The story itself is fast and goes from one big scene to the next, which not entirely a bad thing, but a few more chapters wouldn't have hurt. Other than that, it's a treat for a Star Wars fan.
[PLEASE NOTE]
Some Bad News Below…
MULTIPLAYER
Battlefront 2's multiplayer is what it's famous for. It is pure Star Wars style battles between The Empire and Rebels, for the most part anyway. Seeing blaster fire flying into the air, fellow soldiers getting shot down right in front of you or explosions ripping vehicles apart with devastating force, it is all there and presented really well.
However that is when I actually did play a few times. Most of the times I was in and out of menus trying to find a match. At times I felt I was playing around in the menu more than the actual multiplayer side of the game.
The reason for this is mostly due to the controversy leading up to the game's launch.  With micro-transactions stating and drawing a line between the two types of games out there, those who just want to play and those who spend real world money for huge advantages. With that, I suspect a lot of gamers didn't buy the games until further notice. Because of this, it hinders my review for Battlefront 2's multiplayer. With the lack of a Server Browser, it makes looking for match manually, impossible.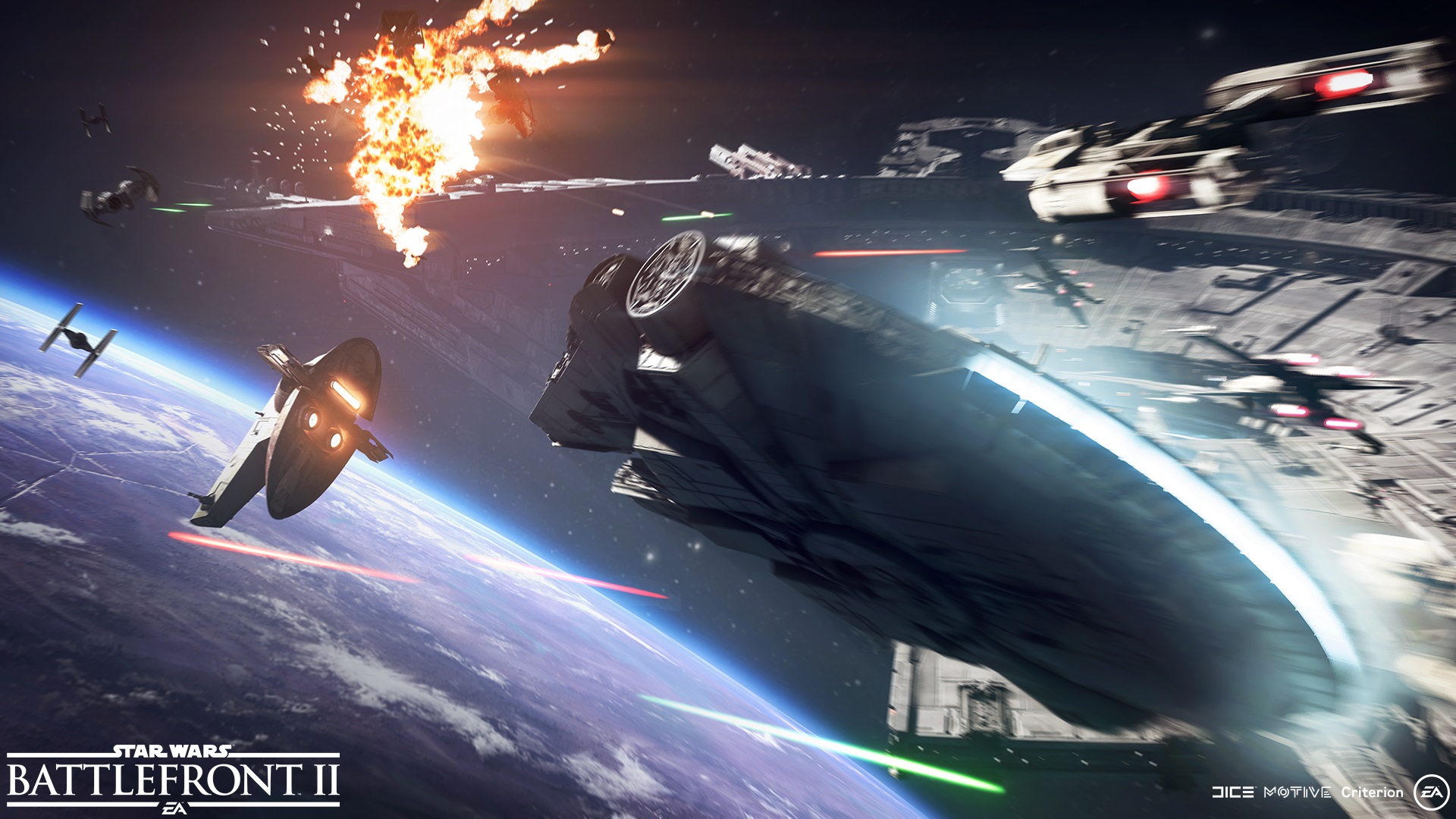 Even though the multiplayer side of things is currently unreachable, Battlefront 2 does offer non-online arcade options. It can be played solo or with a friend via split screen co-op or versus.
Battle Scenarios is pre-set encounters from the various eras of the Star Wars universe with unique rewards to unlock.
Custom Arcade lets you tweak the battle styles for some jump in and have fun style action.
With the standard Hero characters and the standard troopers to choose from, these two modes has a decent amount of fun within them.
FINAL VERDICT
Star Wars Battlefront 2 is fun game, whether you a Star Wars fan or not. Graphics are stunning. Cut-scenes have a beautiful level of detail that you would think you are watching a movie.
The game's menu deserves special mention here. It has the standard Star Wars theme orchestra music playing in the background. Icons representing the different modes are animated with a wire frame outlining of well-known items.
I am sad the multiplayer had such a troubled start but I am hopeful it will be in full swing in no time.
As always I would like to say a special thanks to Prima Interactive for providing me with this review copy.
Written by: Ghost86
Edited by: BigJapester11