Hardware reviews are very difficult to be objective about, and they are also really tough to do if you can't get your hands on the hardware you need to review, for obvious reasons.  So you resort to desperate measures.  Beg, borrow and often "borrow for extended periods of time" became the modus operandi.  Luckily with the help of an awesome company called APEX INTERACTIVE SA those days are now over!  The first headset that Ruan and his people sent me to try is the Turtle Beach Earforce Stealth 600, yes it is a mouthful its not just you…
From the moment I was told that the Stealth 600 was on its way to me I was ecstatic!  I had never before reviewed a Turtle Beach headset and all my gaming buddies, bar one or 2 Astro faithful, all use a version of the Turtle Beach so I was excited to see what the fuss was about.
When they arrived I quickly tore off the shipping plastic and basked in the beautiful green box.
Whats in the box?
The headset is well packaged, I wouldn't call it magical, I mean its packaging…  But it does the job.  Inside you have the headset itself, a USB charging cable and a small booklet on how to use and connect the headset.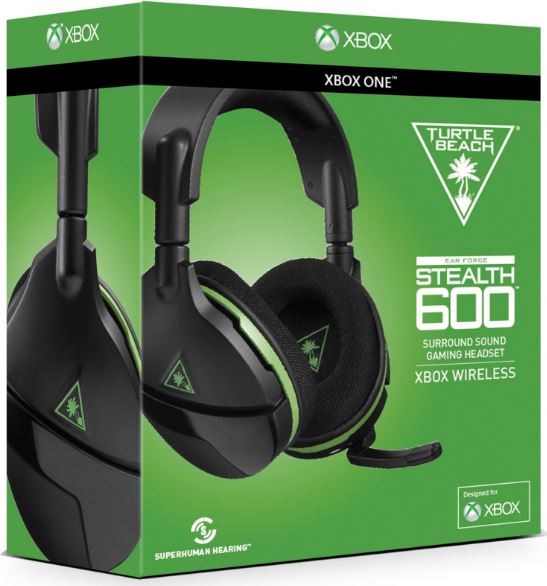 Connecting the headset to the Xbox was fairly straight forward, if you have ever connected a controller to your console the process should be familiar to you.  Simply hold the bind button on the console as well as on the headset until the little green LED situated at the bottom of the left ear cup is flashing and you will be greeted by an audio chime as well as an onscreen message telling you the headset has been assigned to the profile that is currently logged in.  So far so good!
Controls and Features
This being my first Turtle Beach experience, I had heard so many things about the supersonic hearing and how it will improve your environmental awareness by many folds, I, being a R6 Siege player was eager to see how this can help me bridge the gap from a Gold ranked player to an elite Platinum hero, more on that further down.
The Stealth 600 are of course wireless, which is great if you already have a fairly crowded gaming room and setup, one less cable DOES make a difference, and to have the freedom to move around without worrying you might trip over a cable is also great.  The batteries on the Stealth 600 seem decent, I never had a problem with it dying on me but it is good to note that my longest session was around 5-6 hours and not one hiccup during that time.
The microphone of the Stealth 600 is extremely sensitive and clear, my online buddies all asked if something had happened to my voice overnight and no one complained of hearing a lot of background noise from my side.  It is a very short and small microphone sitting on the left ear-cup, unfortunately if you prefer your mic to be on the right there is no option of swapping it to the other side.  Want to mute that cough you feel incoming?  Simply flip up the mic and it will mute.
Seeing as the Stealth 600 is wireless you have no adapter plugging into your controller where you can control the audio intricacies, all of this is also on the left ear cup.  What I found, but this will improve as you get to know the headset, is that I often found my fingers spinning the volume knob instead of the party mixer causing me to either blow out my eardrums when I turn the volume up a touch too much or I would miss out an essential call out during a tight Siege match if i mixed the in-game volume over the party volume.  This is all just caused by not having spent more time with the headset so I wouldn't worry too much about this.
The equaliser presets, which the button is ALSO located on the left ear cup, are all very well balanced, they cover most preferences so you are sure to find one that suites your liking.
Let the Sound do the Talking!
I consider myself a Astro fan boy, from the moment I placed my Astro A40 TR's over my ears I fell in love. The sound clarity and fullness blew me away, I was sure that the Stealth 600 wouldn't even get close to my dearly beloved.  Boy was I pleasantly suprised!  the 50mm drivers of the Stealth 600 are superb.  They deliver decent deep bass tones and beautiful higher notes.  From the quiet intense moments of Siege, to the bone-chilling nothing-ness of the Turing Test to the all out madness of Battlefield 4 they never missed a step and I was truly impressed!  The Supersonic hearing had me hearing operators entering a room walking over broken glass on the opposite end of the house which truly blew my mind (and helped me blow theirs as well)  In the sound department the Stealth 600 truly punches way above its price range.  Only once did I experience during a barrage of large explosives the bass couldn't keep up and i heard a second or so of hollowness but other than that, faultless!
Look and feel, less spectacular…
From the very first look the Stealth 600 headset looks very attractive, slick and sharp lines, lots of black with the Xbox signature green on the inside of the cups as well as sneaking out around corners and edges with the ever present Turtle Beach logo found inside the ear cups as well as proudly sitting on the outside, this Headset looks the part without a doubt
It is when u pick them up and put them on that my excitement faded.  They are very plastic, which is what you would expect from most headsets in this price range so I don't consider this a problem, but they do at times feel flimsy.  They are extremely light which is great for some but I like to feel that i have something that I just spent my hard-earned money on, once again that is an opinion.  the cups can be adjusted height wise as well as swing forwards for a few degrees, yet I struggled to find a truly comfortable position on my head.  I found myself constantly fiddling to find a more comfortable position which I was dissapointed about.
The ear cups although they look beautiful, are rather shallow.  I don't have particularly out of the ordinary ears, but I found my ears to hurt after a hour of so of gaming, and also sweating.  The foam of the cups are not great, they do cater for spectacle-wearers with a nifty cut-out allowing your glasses to sit comfortably and not get squashed.
I was very disappointed with this aspect of the Stealth 600 as they were really ticking all the boxes up to this point.
Still, the Turtle Beach Stealth 600 headset is a really good wireless headset and I think you would be foolish if you do not consider them if you are in the mid-range wireless gaming headset market! It is good to also note that they are compatible with Windows 10 PC's but you will need to buy the wireless adapter which is unfortunately sold separately.
Once again A BIG thank you to APEX INTERACTIVE SA for supplying me with the headset