Whoo!
WWE 2K19 is a good game… if you are a WWE fan. While for someone who isn't, it can be a very confusing ordeal. But either way, there is fun to be had. It goes without saying that fans will appreciate it more than those who are just there to play the game. The roster has a lot of wrestlers to choose from and the character creation is surprisingly impressive. Fan or not, this game has a lot of variety to it and requires some experimenting…
Yes, they can see you
The character creation is impressive. From creating MYPlayer for the story mode or a Superstar, there are a lot of options from recreating oneself to creating a little green alien guy or even a Marvel Superhero. Ever wanted to see if Captain America can pin Venom down? Well, with some time and effort you could create a superhero themed wrestler. From height, to weight and even place of birth and intro, everything is yours to tinker with, including things like how much body oil they have rubbed on their muscular bodies. From their entrance walk (and if you so wish, a separate entrance outfit) to their personality and even the stitching in their clothes, the customisation options are endless. And yes, South Africa can be a place of birth for your wrestler, which was a welcome surprise. There are a ton of cosmetic items to unlock which can really add to the style of your wrestler. Facing a guy that's ten times your size? You could put on a safety helmet just for a laugh. That's the nice thing about this game, it has the simulation aspects in it, but at the same time players can do silly things that make it feel less serious.
Never back down
The gameplay is a tad tricky to figure out at first. Your wrestler isn't this machine that can take hit after hit. They will eventually get tired as their stamina bars deplete and each hard hit will cause damage to their body which is indicated in the HUD in the bottom of the screen. The weaker they become, the easier they are to be pinned down. And that is an advantage highly skilled players can use against their opponents. The reversal system is a key element to success; it's all about that split second quick time event that suddenly appears above your wrestler's head before they take a knock. It does get a bit annoying when you end up in a loop of constant bombardment after missing those extremely fast reversal opportunities, but this is only in the beginning as when the system becomes more familiar one predict what their opponent is about to do by studying their move sets but still, the controls feel tricky. After pressing a button that supposedly did one thing ends up doing something completely different. Maybe over time these get easier but after all this time in the game, it feels like the wrestler does his or her own thing most of the time.
There is a skill tree that gives players certain perks which eases things a bit which is a nice touch but it still feels like the game boils down to player skill and not a bunch of passive skills.
Every Star has a Story

The storyline is quite interesting. Without giving too much away, players start on the indie scene and work their way up to WWE. The story is full of that back stage melodrama that WWE is known for. So fans will surely get their kicks from the storyline which is a fully voiced protagonist. Some matches have certain objectives that are tricky to meet, like hitting your opponent in the parking lot after bringing their health down to a certain stage. These trigger dragged out cut scenes that can, thankfully, be skipped seeing as though if you lose a match, there are no checkpoints so you have to restart from the beginning.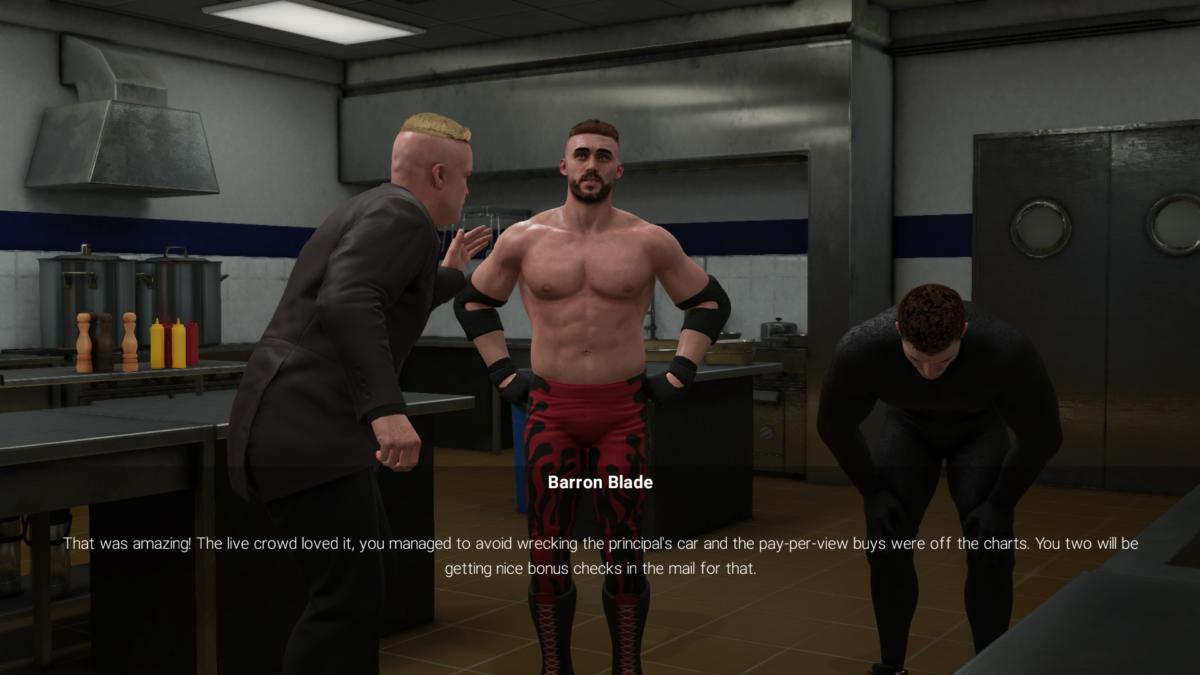 The Sound of Repetition? The commentary is outright boring. Compared to Fifa games or other sports games, the commentary in this one gets obnoxious after awhile. After the first few minutes the commentators start saying the same things over and over. How many times is the commentator going to say the same line that takes a stab at my opponent's ridiculous name? Or how many times are the commentators going to ask how these wrestlers are still going after throwing each other around a bit? It gets tedious after a while. But other than that, the music is what you'd expect from a game like this; there are some catchy tunes in the menus. The crowd reacts well to the action and the sound effects are spot on. But commentary and dialogue just feels outright lazy and makes a long match a chore to shovel through which is such a shame because in a quick play match the commentary is better, yet in the story it's just the same tedious thing over and over.
Sweat and Tears
The graphics are decent enough. A lot of detail went into the wrestlers, which is expected. Seeing sweat gleam off their backs is a very nice touch. The stages are flashy and the way the characters move and react to being whacked in the head with a chair (among other things) looks spot on. Facial animations in the cut scenes are a tad on the cringe side of the spectrum though.
Variety is the spice to life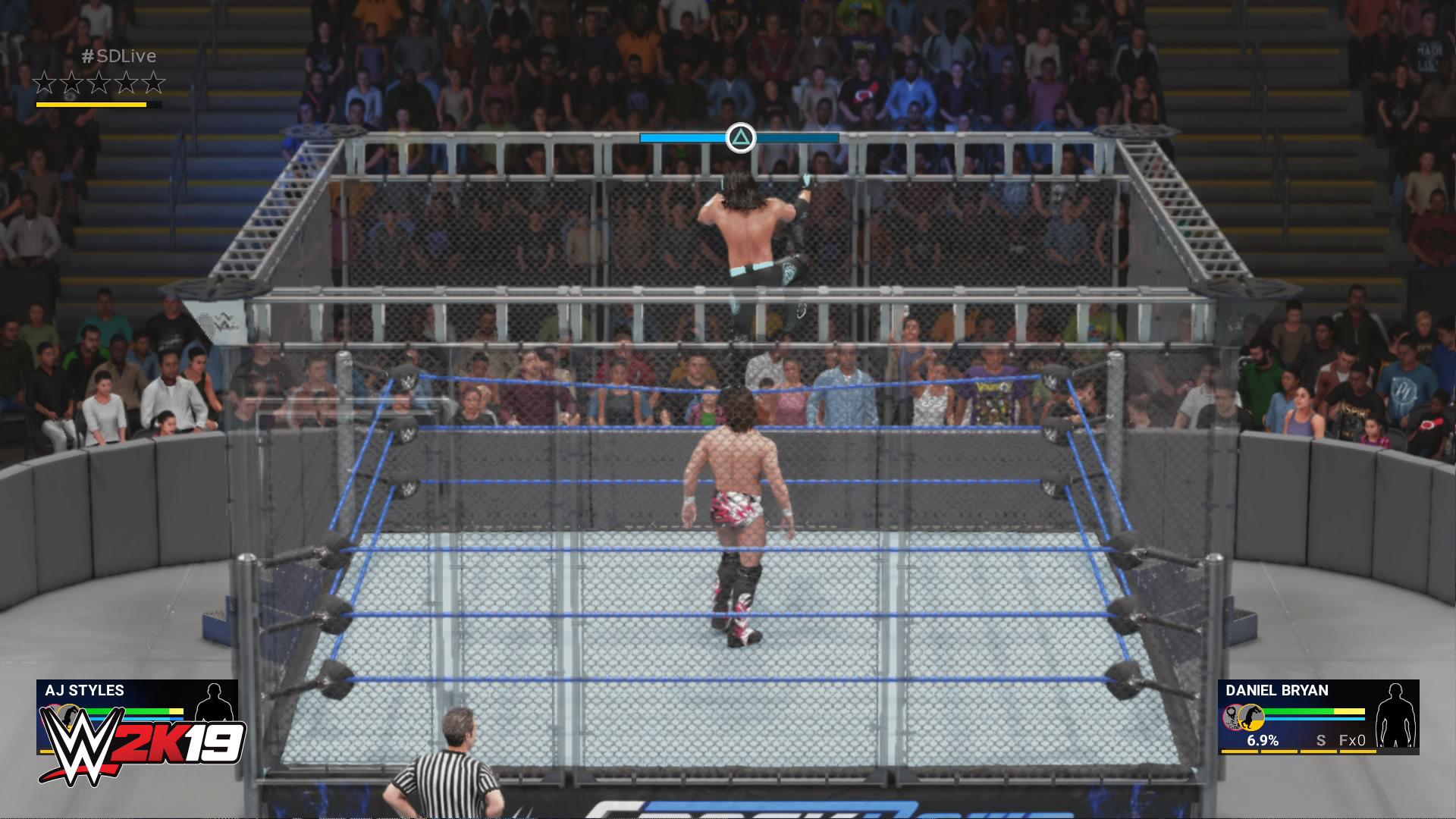 Not keen on the story? Well, WWE 2K19 has a ton of things to do from online multiplayer to various match types, like Hell in a Cell and the Back Stage fight scene, to name a few. There is even a tower mode where players face a series of opponents that escalate with difficulty, much like other fighting games. There is a lot to mess around with other than the story mode, as well as local multiplayer. It's always fun to beat your friend near to death with a chair while Triple H watches on, paying no mind.
Verdict
WWE 2K19 is a fun game. Obviously fans of the sport will enjoy and appreciate it more. But even so, there is a lot to play around with and there is a character creation system that is going to satisfy content creators amongst the community, plus a story mode and a variety of modes on top of that. It's really fun for a casual party trick when having friends over or to tackle the online scene which is where most players might spend a lot of time in. But the dragged out cutscenes with what feels like lazy dialogue, poor commentary and tricky controls hold it back.
Thanks to Prima Interactive for providing the game for this review
Special thanks to Brendon Jacobs for the review