Most of us have heard of the headset brand Astro and we all instantly think seriously pricey pieces of hardware am I right?  For the most part you are correct, both the A40 and A50 headsets come with a hefty price tag, but they are both spectacular headsets in their own right. Whether you go for the wired A40 version or the wireless A50 you will definitely not regret it! They also come in a TR version that provides you with even higher sound fidelity but all of this just adds to a already large sum of money, or a kidney if you are that way inclined.
But what Astro has done with the A10 is bring its premium sound, build quality and overall bad-ass look that they are renown for in their A40 and A50 models and packaged it in a budget headset that appeals to the majority of gamers that are on a tighter budget.
I was skeptical at first, being a Astro A40 TR user myself I was curious to find out what the A10's bring to the already tightly contested "entry-level" price bracket, and boy oh boy was I impressed!
Good Looks on a Budget
It might not have all the metal and shiny bits and features that its older (and richer) brothers have but the A10's have a impressive sleek and sturdy look for a plastic headset around the R1 000 mark!  For all money it is a baby brother of the A40 sporting the big boxy cups and bendable mic that you only have to flip up to mute, clever trick there Astro!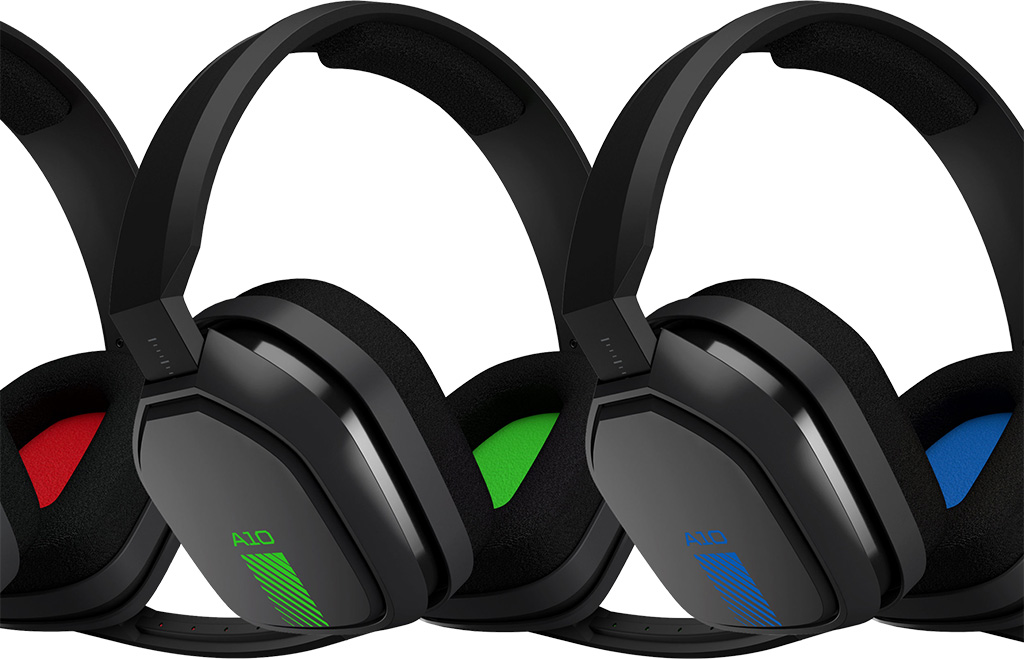 Sporting a range of colours ranging featuring Blue, Green and Red that are aimed at the Xbox One, PS4 and PC users.  Luckily either headsets will work with your choice of platform unlike the older brothers that have platform specific colours and capabilities.
The 2m long cable has a handy inline volume slider and can be easily detached making this very suitable for travelers.
Snug fitting, maybe too snug…
The A10's fit cozy, a little too cozy at times. With my A40 I can play for marathon sessions without feeling uncomfortable, with the A10's I found the earcup space to be smaller than my A40's leading me to feel the need to take a quick break after a few hours, but nothing to warrant not getting the headset, hell the comfort is alot better than many other premium headsets.  The headset is also extremely light, weighing in at only 340g.  Unfortunately the A10 cups can't swivel 90′ like its big brothers but it can adjust up and down to help with comfort
Good sound at a Good Price
The A10's impressed me when it came to their sound quality, delivering punchy highs and solid deep lows for every game.  During R6 Siege matches it gave me clear indication of footsteps and where enemies were placing explosives and during a quick hoon through the Australian outback in Forza Horizon 3 I could pick up very crisp squealing of  my tires all while comfortably chatting to a mate.  At this point I was regretting buying my Astro A40 TR's but the A10's do fall short when it comes to music.  the mid range sounds sound muddy and not as clear.  But still overs way better sound quality compared to other headsets in its price range.
Verdict
Astro has brought us a very very competitive headset in the A10.  It is easily up there as one of the best in its price range.  Astro has a strong foot hold in the premium market and they are looking to extend that grasp by way of the A10 and later the A20 (its wireless) brother.  With its typical Astro design and wonderful ingame sounds this is a must get for any person looking to buy into the Astro family!  They also have top-notch support via their website and I can account for their amazing service, having no problem sending me a spare inline mute cable when I wasn't sure if it came in the box, free of charge!